History of Ongar Place
Ongar Hill House 1824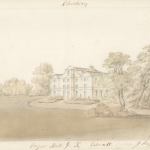 Our school was built in 1964 -1965 on the site of the house and grounds of "Ongar Hill House" and took its first intake of children in 1969. The original mansion was part of an extensive estate and farmlands set in 40 acres. Our school is set in wonderful grounds which includes a heated swimming pool. Our setting enriches our learning environment and provides opportunities for our children to learn beyond the classroom.
Ongar Place School began life as an Infant School but we are now an established primary school. We waved our first Year Six group off to secondary education in July 2012 having provided them with a huge range of opportunities at Ongar Place that prepared them personally and academically for their continuing learning journey.
At Ongar Place we are continuously reviewing our curriculum and approach in order that we can offer our children a learning experience that builds on their skills and knowledge, prepares them for the opportunities and challenges of life in our fast changing society.